Video: Roach Gigz - "Respect It"

08.18.2010
Roach Gigz Delivers 65 Bars of Rhythm and Rhetoric In Latest Music Video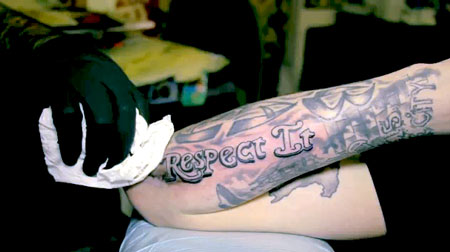 Critical Praise for Roach Gigz:

Selected as a member of 106 KMEL's (the biggest Bay Area hip-hop station) Freshmen Class of 2010.

"Roach Gigz effectively captures the masters' irreverent best by simply being himself. His new mixtape, Roachy Balboa, is one of the most energetically fun rap records released this year." - David Drake, Pitchfork.com



The Video:



Roach Gigz, a.k.a. Roachy Balboa, brings forth a lesson in rhythm and rhetoric with his latest release, "Respect It." The music video, produced by frequent collaborator and ambitious Bay Area filmmaker Aris Jerome, is a sixty-five bar exercise in verbal dexterity designed to forewarn feeble emcees of Gigz' ascendancy on the rap front. The beat, produced by KMTB, is simplistic in composition, yet provides the perfect backdrop for Gigz' bombastic punch lines and swift phraseology in this assertive undertaking. "I called it 'Respect It' because some people were taking Bay Rap as a joke," notes Gigz on the inspiration behind the title. "I want to show people that I really love this music and I really got gas, so pay attention."

Cinematically, "Respect It" follows the Bay Area rapper on the streets of Oakland, California, through a series of seemingly disconnected events that ultimately comprise a day-in-the-life for the young emcee. Gigz guides the camera from a liquor store, through a civilian protest, and into his local tattoo parlor where he gets the mantra, "Respect It" inscribed on his arm. On the motivation behind the tattoo Gigz says, "I got the tattoo to show people how serious I feel about this music. It's my life and it's about time people start noticing Roach Gigz. Respect It."

Check out Roach Gigz' video,"Respect It": http://www.youtube.com/watch?v=JEAueiDijRc
Download Roach Gigz', Roachy Balboa from his website: http://roachgigz.com/



The Background:



Selected as one of 106 KMEL's Top 10 Freshman Rappers of the Bay Area, 21-year-old San Francisco native Roach Gigz has gone from virtually unknown to one of the hottest artists on the West Coast in just four years. Born and raised in the Bay Area Roach was conceived in Nicaragua during the Contra and Sandinista war. His father was a supporter of the Sandinista Liberation Front and has never lived in the United States but Roach's mom moved to California and raised him as a single mother. Needless to say his upbringing was very complex so being a white rapper in a predominantly Black and Latin dominated business is not an issue for Roach. "I'm just being myself and I think my fans see that. It ain't about race; it's about the music."

Named after a combination of the character Roach from the movie Next Friday and his high school days dancing skills, Roach Gigz first gained local fame with close friend Lil 4Tay as one half of the group Bitch I Go (B.I.G.). Now, with two successful mixtapes under his belt Roach is currently preparing his debut album, tentatively titled Therapy Sessions, which is scheduled to be released this fall. The album is shaping up to be a very personal one. Roach says the music will touch on the ups and downs of his life from the struggles he's been through growing up in the Bay to the birth of his newborn son.
Streams:

"Respect It"
http://www.youtube.com/watch?v=JEAueiDijRc

"Pop Off"
http://www.youtube.com/watch?v=3_A3yMfHHuE

Bio, pictures, and streams available here:
http://www.audibletreats.com/download/roach_gigz/

Website:
http://roachgigz.com/

Twitter:
http://twitter.com/roachg

MySpace:
http://www.myspace.com/roachgigz

Youtube:
http://www.youtube.com/user/roachGtv

Bandcamp:
http://roachgigz.bandcamp.com/


Audible Treats, Ltd.
98 4th Street, Suite 317 | Brooklyn, New York 11231 | 718-768-7275
www.audibletreats.com
© Copyright 2010
All Rights Reserved