yU's Solo Album Before Taxes Out Today + Fat Beats NY In Store Tonight + 2 MP3s

04.13.2010
Diamond District Emcee Drops New Album And Tracks From Solo Debut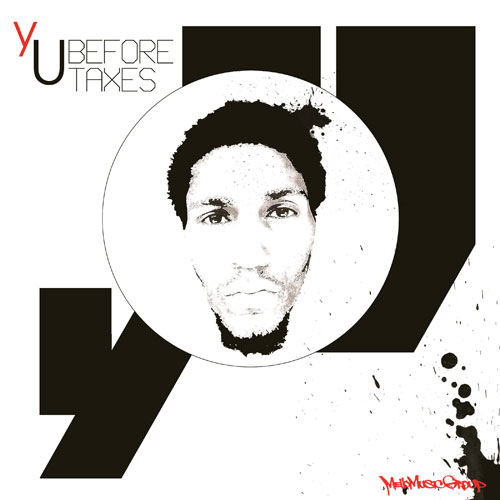 The Songs:

With tax day almost upon us, emcee extraordinaire and Diamond District member yU is proud to announce the official release of his solo debut, the aptly titled Before Taxes, out today, April 13th, via Mello Music Group. The album marks a return to a golden era of hip-hop with sounds steeped in boom-bap and rhymes rich with cultural significance. The creation of Before Taxes has certainly had an impact on the DMV emcee, and today's release is a culmination of solo skills and creative collaborations. "I'm very grateful to be able to speak my mind in rhythm and have folks be able to relate," explains yU. "I give thanks to all those who contributed to this outcome - it's great to know that on this day, these sounds, feelings and ideas were frozen in time and made permanent."

To celebrate today's release of Before Taxes, yU is generously slicing off two cuts from the album to give to fans for free, album track "Close" and bonus, non-album, song "Work It Out." "Close" is a rhythmic, bass-driven track produced by SlimKat78 and fellow DMV emcee Isabella Banneker that finds yU delivering a determined message about perseverance. yU elaborates: "Some [people], in the process of solidifying their goals, end up going through tough times resulting in them giving up, seconds away from the finish line or their breaking point. I wanted to inspire those people." "Work It Out" continues the theme of persistence and overcoming adversity with production from yU himself and some lyrical support from Rodney President and EyeQ. A subtle melody serves as the undercurrent for a message about "making it happen instead of complaining about it," says yU. "I was taught to make the most out of what I have until I'm able to obtain what I need."

Make the most of your day and join yU and fellow Diamond District crewmember Oddisee at Fat Beats New York (406 Avenue of the Americas, New York NY), tonight at 7:00PM for an in-store meet and greet and CD signing. Also, don't forget to file your taxes and pickup a copy of yU's Before Taxes, out today via Mello Music Group.

Also, be sure to catch Diamond District in action this Thursday, April 15th at SOBs as they open up for the legendary Cypress Hill.

Please post buy links:
http://itunes.apple.com/us/album/before-taxes/id363912874

"Close": http://media.audibletreats.com/yU-Close.mp3

"Work It Out" Featuring Rodney President and EyeQ: http://media.audibletreats.com/yU-Work_It_Out_Ft_Rodney_President_And_EyeQ.mp3

The Background:

Stemming off the success of Diamond District's In The Ruff, emcee yU has branched out with his solo album, Before Taxes. Embodying the musical influences surrounding him, yU brings listeners tastes of the district, Maryland, and Virginia with his own classic brand of hip-hop. Showcasing his depth of talent and skill, yU expands on Diamond District's love of boom-bap and the golden era with this forthcoming release. Before Taxes is available digitally via Mello Music Group.

yU is available for in-person and phone interviews. Web editors contact Dan for interview requests. Print editors contact Michelle.

Streams:

"Close":
http://media.audibletreats.com/yU-Close.mp3

"Work It Out":
http://media.audibletreats.com/yU-Work_It_Out_Ft_Rodney_President_And_EyeQ.mp3

"Native":
http://media.audibletreats.com/yU-Native.mp3

"On Ya Head":
http://media.audibletreats.com/yU-On_Ya_Head-Bonus.mp3

Bio, pictures, and streams available here:
http://www.audibletreats.com/download/yu
http://www.audibletreats.com/download/diamond_district

Twitter:
http://twitter.com/yuthe78er

MySpace:
http://www.myspace.com/yuremainz

Group Site:
http://diamonddistrictdmv.com

Label site:
http://www.myspace.com/mellomusicgroup

Audible Treats, Ltd.
98 4th Street, Suite 317 | Brooklyn, New York 11231 | 718-768-7275
www.audibletreats.com
© Copyright 2010
All Rights Reserved