MP3: Opio and Unjust - "Aggression"

03.31.2010
Souls of Mischief's Opio and Chosen Few's Unjust Team Up For Big Lebowski Tribute Album, Release Album's First Track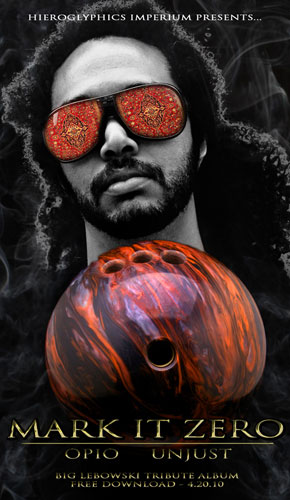 If you've never seen The Big Lebowski, it's time to change that. The 1998 Coen Brothers directed film is considered by many to be the their best work, and has since risen to cult-classic status. Twelve years later, interest in the movie still soars with frequent special screenings of the film in cities across the country and the film has even inspired Lebowski Fest, a yearly celebration of all things related to the movie. It was at one of these screenings on April 20th at the Red Vic Theatre on fabled Haight Street in San Francisco last year, while smoking some inspiration, that producer Unjust of Chosen Few and Opio of the mighty Souls Of Mischief (both big fans of the movie) got the idea to make a tribute album dedicated to The Dude and his movie. "Every scene and nuance of the movie began to speak to them creatively - especially the soundtrack." says Unjust. "This is one of those cult classic movies, so the people that like it LOVE it." Coming full circle a year later to the day, The Big Lebowski-inspired album from the duo, titled Mark It Zero, drops on 4/20 via Hieroglyphics Imperium. The album will consist of stories loosely based on their own "dude-like" adventures with all of the beats sampled directly from the score of the epic film. And so as not to be perceived as "goldbrickers" (to use the parlance of our times), the fellas have decided to give it away free, well, pay as you will. We really think it will tie your 4.20 together.



The Song:



"Aggression," the first single off the album opens with one of the many memorable lines from the movie by John Goodman's character Walter Sobchak, "Life doesn't start and stop at your convenience you miserable piece of sh*t." True words. As that line fades out the song opens into a short and sweet smooth jam featuring slick production by Unjust who uses choice orchestral cuts and drum samples from the movie to paint a rich backdrop for Opio, who drops cunning lyrics about Mary Jane and the seemingly unwarranted aggression towards it. The vibe on the track practically pulls you into the movie. So, if you're unfamiliar with the movie, go rent it, download "Aggression", and get ready for April 20th.

And be on the lookout for Opio's upcoming 2nd solo album, Vulture's Wisdom Vol. 2, and Chosen Few's highly anticipated Hieroglyphics Imperium debut album New World Symphony, in stores May 25, 2010.

Listen to "Aggression": http://media.audibletreats.com/Unjust_And_Opio-Aggression.mp3

Please contact Dan if interested in talking with Opio or Unjust.



About Chosen Few:



Chosen Few is Cold Showda, Unjust, Charles Cooper... and You. The mission of the group is to empower listeners and make them realize that they alone have the power to decide what music they listen to, instead of just picking up everything the powers that be are putting down. Originally from Ohio, the crew hooked up with regional talent like Hi-Tek, DJ Kweli, and Slum Village before moving westward to fulfill their musical manifest destiny. Cold Showda and Charles Cooper began their Bay Area careers by performing under the name Greans, collaborating with the likes of Mos Def, Common, Hieroglyphics, Pharcyde, Grandmaster Flash and more, while Unjust used his skills as a graphic artist to work with Dilated Peoples, Little Brother, Strong Arm Steady, Planet Asia, J. Dilla, Nappy Roots, and Dizzee Rascal to name a few. After achieving their respective separate successes, Chosen Few regrouped in 2008 and began building energy towards reviving the emotional range that seemed to missing from lady hip-hop at the time, and thus the idea that was New World Symphony was born. The sound of today's social consciousness is Unjust's soul and psychedelic rock laden beats, Cold Showda's relentlessly aggressive lyrics, and Charles Cooper's masterful saxophone playing and wordplay. Rounding out the album are guest appearances by Del The Funky Homosapien, Pep Love, Rakaa Iriscience, Phat Kat, DJ Babu, Tajai, Opio, Piakahn, Word4Word, and more. As Cooper says, "we are trying to encourage people to stand up, be your own individual and BE one of the chosen few." Become part of the movement at http://wearechosenfew.com and prepare to tune into New World Symphony on April 6th, 2010, via Hiero Imperium Records.
About Souls of Mischief:



Souls Of Mischief is an alternative hip-hop group from Oakland, CA that is also part of the hip-hop collective, Hieroglyphics. The group consists of emcees A-Plus, Opio, Phesto, and Tajai. With classic albums like 93 'til Infinity, No Man's Land, Focus, and Trilogy: Conflict, Climax, Resolution, all of which were critically acclaimed and have been certified Gold by the RIAA. The Souls Of Mischief have recently released their first album in almost 10 years, entitled Montezuma's Revenge. Produced by Domino and Prince Paul, the album is available now via Hiero Imperium Records.
Streams:

"Agression":
http://media.audibletreats.com/Unjust_And_Opio-Aggression.mp3

S.O.M. bio, pictures, and streams available here:
http://www.audibletreats.com/download/souls_of_mischief/

Opio Twitter:
http://twitter.com/OpioHieroSOM

S.O.M. Facebook:
http://www.facebook.com/pages/SOULSOFMISCHIEF/188460103060

S.O.M. Myspace:
http://www.myspace.com/soulsofmischief

S.O.M. Last.FM:
http://www.last.fm/music/Souls+of+Mischief

Chosen Few bio, pictures, and streams available here:
http://www.audibletreats.com/download/chosen_few

Chosen Few MySpace:
http://www.myspace.com/wearechosenfew

Chosen Few Bandcamp:
http://chosenfew.bandcamp.com/

Chosen Few official site:
http://wearechosenfew.com

Label site:
http://www.hieroglyphics.com


Audible Treats, Ltd.
98 4th Street, Suite 317 | Brooklyn, New York 11231 | 718-768-7275
www.audibletreats.com
© Copyright 2010
All Rights Reserved