Little Brother Unveils Official Artwork And Track Listing For LeftBack

02.11.2010
Wide Array Of Producers And Emcees Invited To Little Brother's Farewell Album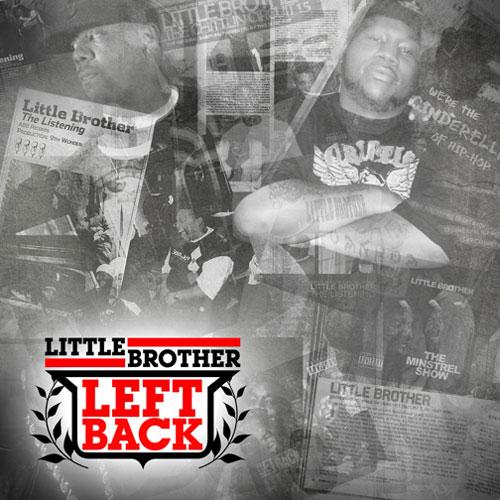 (February 11, 2010 – Brooklyn, NY) Little Brother is back for the very last time with a new album to satisfy the yearning masses. The North Carolina duo, made up of hip-hop heavyweights Phonte and Rapper Big Pooh recently announced the upcoming release of their fourth and final album, LeftBack, available April 20th via Hall of Justus. With production from the likes of Khyrsis, Denaun Porter, Zo!, Symbolyc One, J. Bizness and King Karnov, LeftBack is poised to take listeners on an epic auditory adventure. Phonte and Rapper Big Pooh will also be extending invites for the farewell party to fellow emcees Torae, Truck North, Jozeemo, Chaundon and Median, while crooner Darien Brockington and chanteuse Yahzarah are on hand to add a touch of the melodious to the album.

As the momentum behind LeftBack continues to swell, Little Brother is proud to unveil the official artwork and the track listing for the album. Fans will be excited to learn that LeftBack features 13 tracks of unadulterated hip-hop, while the album artwork finds Phonte and Rapper Big Pooh standing tall amidst the ghosts of albums past, press coverage and other memories accumulated throughout Little Brother's celebrated career. "We wanted the fans to have that moment of nostalgia when looking at this artwork" says Rapper Big Pooh. "You are able to take a quick journey from the beginning of our careers to the end as Little Brother by glancing at the artwork."

Little Brother - LeftBack Offical Track Listing:

1. Curtain Call (Prod. By Khrysis)
2. Table For Two Feat. Jozeemo & Yahzarah (Prod. By Khrysis)
3. Tigallo For Dolo (Prod. By Khrysis)
4. Revenge Feat. Truck North & Median (Prod. By Khrysis)
5. So Cold Feat. Chaundon (Prod. By King Karnov)
6. Second Chances Feat. Bilal & Darien Brockington (Prod. By Denaun Porter)
7. Go Off Go On (Prod. By Khrysis)
8. What We Are Feat. Quiana (Prod. By Young R.J.)
9. After The Party Feat. Carlitta Durand (S1 and Caleb's Who Shot JR Ewing Remix) (Prod. By S1 and Caleb)
10. Two Step Blues Feat. Darien Brockington (Zo's Purple Suit With The Matching Gators Remix) (Prod. By Zo!)
11. Get Enough Pt. 2 Feat. Khrysis (Prod. By Khrysis)
12. Before The Night Is Over (Prod. By J.Bizness)
13. 24 Feat. Torae (Prod. By Khrysis)

Fans can expect further announcements from Little Brother, including tour info and other interesting developments on LeftBack's road to the release.

For more information on Little Brother please contact Michelle or Dan at Audible Treats.

Streams:



Bio, pictures, and streams available here:
http://www.audibletreats.com/download/little_brother

Twitter:
http://twitter.com/phontigallo
http://twitter.com/RapperBigPooh

MySpace:
http://www.myspace.com/littlebrother

Facebook:
http://www.facebook.com/group.php?gid=2204654995

Official Site:
http://www.hallofjustus.com/littlebrother.php

Label Site:
http://www.hallofjustus.com/


Audible Treats, Ltd.
98 4th Street, Suite 317 | Brooklyn, New York 11231 | 718-768-7275
www.audibletreats.com
© Copyright 2010
All Rights Reserved