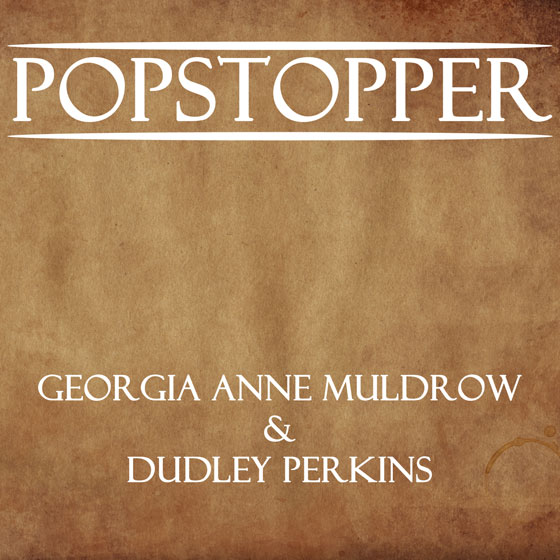 The Song:

On May 21st, husband and wife duo G&D (Georgia Anne Muldrow & Dudley Perkins) will release their new album, The Lighthouse, via the duo's own record label, SomeOthaShip Connect. The album is spiritual yet grounded deeply in reality, mixing funk, soul, hip-hop, and psychedelic jazz, as Georgia's powerful vocals and instrumentation blends with Dudley's poetic cadence to deliver a collection of tracks that touches on parenthood, war, social responsibility, and more. Last week, G&D unveiled the album's unique artwork, commissioned by Japanese visual artist Tokio Aoyama, and the album's track list, and today, Georgia and Dudley are releasing the album's first official single, "PopStopper." The single will also be made available through retail April 30th, digitally via SomeOthaShip Connect and on 7" vinyl via Traffic Entertainment.

The track, which was premiered this morning by Pitchfork, is one that G&D describes as "brimming with confidence and exuberant energy," and that exuberance is evident from Georgia's opening couplet, as she sings, "Don't ever think that you're alone/ Cause loneliness can grow/ Into something that you can't control/ Long as you got a heart, you're at home." The production, like all of the best work from G&D, is driven forward by an off-kilter swing that sits against the beat's on-the-one feel, and Dudley takes full advantage of the track's movement - not to mention its thumping funk and vibrato, spacey synth pads - with a fluid verse that targets those aimlessly chasing pop stardom. The theme comes fully to a head with the song's hook, a refrain that G&D says is all about "regaining self-composure and understanding."

Download "PopStopper" here: https://soundcloud.com/someothaship/g-d-georgia-anne-muldrow



Pitchfork premiered the single here: http://pitchfork.com/reviews/tracks/15202-gd-popstopper/

Pre-order the single on 7" vinyl (out April 30th): www.getondown.com/album.php?id=16231



Please contact Michelle or Dan if interested in talking with Geogia Anne Muldrow & Dudley Perkins.

The Background:

Georgia Anne Muldrow & Dudley Perkins a.k.a. Declaime unite as G&D. Not just singer, songwriter and rapper, the duo are also esteemed producers and owners of their independent label SomeOthaShip Connect. For the past seven years, the couple has worked to perfect their craft as solo artists and as a team. Perkins is known for works like Conversations With Dudley, A Lil Light, Expressions, and Holy Smokes and has worked with artists like The Lootpack, Madlib, Oh No, The Alkaholiks, Flying Lotus and Hudson Mohawke. Muldrow's catalog includes Worthnothings, Umsindo, and Kings Ballad and has a similarly diverse group of collaborators like Erykah Badu, Robert Glasper, Mos Def, Bilal, Wajeed, Sa-Ra and many other independent acts. Currently based out of Las Vegas, the couple are strict vegans, lead a healthy lifestyle and use the music of G&D as a way to uplift the vibration of consciousness. Their sophomore album The Lighthouse will be released on May 21st and follows 2010's SomeOthaShip.