MP3: G&D (Georgia Anne Muldrow & Dudley Perkins) - "Muthadear"

05.10.2013
MTV Hive Premieres A Tribute To Mothers From Georgia Anne Muldrow & Dudley Perkins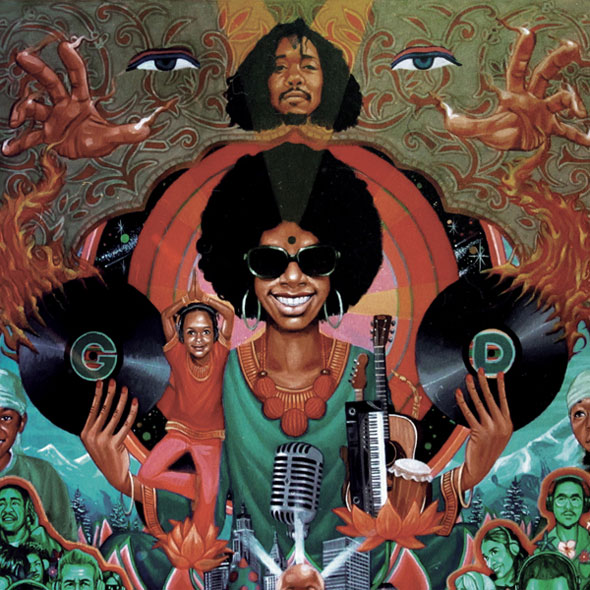 Critical Praise For G&D:
"[She's] an enormously promising young talent." -
NPR
"Maintaining a stinging originality in a world of musical predictability bless the Jah Jah and Dudley - the freshest bloodlines in the game today." -
Gilles Peterson, renowned DJ, BBC
The Song:
With Mother's Day approaching this weekend, G&D's release of their new song, "Muthadear," an old-school R&B influenced hip-hop track, couldn't be any timelier. The song is taken from the duo's upcoming album, The Lighthouse, due out May 21 on the band's own label, SomeOthaShip Connect.

Georgia Anne Muldrow's signature production provides a throwback orchestral beat as Dudley Perkins describes a vivid memory from his youth when his mother caught him smoking weed. Of the experience he recalls comically, "My mother asked me about it and told me not to lie. I told her the truth [and] she commenced to smack out my left tooth." On the hook Georgia sings "You gave me a melody/Deep within/How I love you/Always been a friend/Life depends on you," expressing her reverence for her own as well as all mothers, whom she describes as "the feminine energetic aspect that holds the world together."

G&D will perform at Brooklyn Bowl in New York on May 21 and at Low End Theory in Los Angeles on May 22 to celebrate the release of The Lighthouse, which is available for pre-order through the duo's bandcamp page.


Listen to"Muthadear" here: https://soundcloud.com/someothaship/g-d-georgia-anne-muldrow-1

G&D (Georgia Anne Muldrow & Dudley Perkins) - Muthadear by someothaship

Check out the MTV Hive premiere: http://www.mtvhive.com/2013/05/09/georgia-anne-muldrow-dudley-perkins-muthadear/

Buy the 7" here: http://www.getondown.com/album.php?id=16231
Pre-order the album via Bandcamp: http://someothaship.bandcamp.com/album/the-lighthouse

Upcoming shows:

NYC: 5/21 @ Brooklyn Bowl: http://www.brooklynbowl.com/event/257483-georgia-anne-muldrow-dudley-brooklyn/
LA: 5/22 @ Low End Theory: https://www.facebook.com/events/138148336354763/





Please contact Michelle or Dan if interested in talking with Geogia Anne Muldrow & Dudley Perkins.



The Background:



Georgia Anne Muldrow & Dudley Perkins a.k.a. Declaime unite as G&D. Not just singer, songwriter and rapper, the duo are also esteemed producers and owners of their independent label SomeOthaShip Connect. For the past seven years, the couple has worked to perfect their craft as solo artists and as a team. Perkins is known for works like Conversations With Dudley, A Lil Light, Expressions, and Holy Smokes and has worked with artists like The Lootpack, Madlib, Oh No, The Alkaholiks, Flying Lotus and Hudson Mohawke. Muldrow's catalog includes Worthnothings, Umsindo, and Kings Ballad and has a similarly diverse group of collaborators like Erykah Badu, Robert Glasper, Mos Def, Bilal, Wajeed, Sa-Ra and many other independent acts. Currently based out of Las Vegas, the couple are strict vegans, lead a healthy lifestyle and use the music of G&D as a way to uplift the vibration of consciousness. Their sophomore album The Lighthouse will be released on May 21st and follows 2010's SomeOthaShip.


Streams:

"Muthadear"
https://soundcloud.com/someothaship/g-d-georgia-anne-muldrow-1

"PopStopper"
https://soundcloud.com/someothaship/g-d-georgia-anne-muldrow
http://www.youtube.com/watch?v=0R6fhUV6yAY

Live in Cape Town, South Africa
https://soundcloud.com/someothaship/g-d-live-in-africa-guga-sthebe

Bio, pictures, and streams available here:
http://www.audibletreats.com/download/gandd

Twitter:
http://twitter.com/JAHJAHMULDROW
http://twitter.com/someothaship

Facebook:
https://www.facebook.com/SomeOthaShip
https://www.facebook.com/GeorgiaAnneMuldrow
https://www.facebook.com/pages/Dudley-Perkins-AKA-DECLAIME/165355477853

Label Site:
http://someothaship.com/
http://someothaship.bandcamp.com/


Audible Treats, Ltd.
98 4th Street, Suite 317 | Brooklyn, New York 11231 | 718-768-7275
www.audibletreats.com
© Copyright 2013
All Rights Reserved