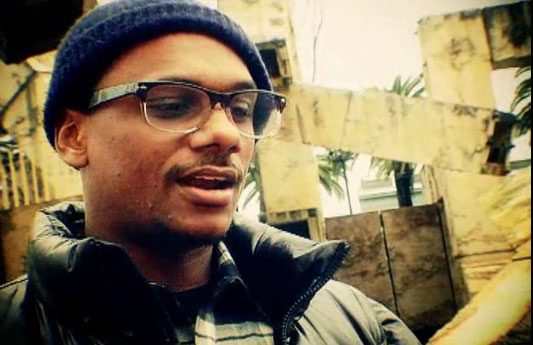 Critical Praise for Tanya Morgan:

"This Brooklyn-Cincinnati hip-hop trio summoned old-school cheer, goofy skits and indelible hooks for a left-field masterpiece." - Rated #1 Album across all genres for 2009 by Steve Smith, Time Out New York's Music Editor


The Video:

Hip-hop trio Tanya Morgan has gained much critical acclaim for the old-school vibe and infectious hooks of their many independently produced releases. They are renowned for being involved in overwhelmingly theme-oriented projects, most notably their recent release of Brooklynati, in which they created an entire fictional city. Stepping solo into the spotlight, fresh off the release of his tributary concept album, Don Cusack in High Fidelity, Tanya Morgan emcee Donwill continues in this thematic tradition.

Sitting down with a camera crew from MYX TV's show DIG, Donwill discusses what the album means to him, and the inspiration that he derived from the film High Fidelity, based off of Nick Hornby's novel. "The movie itself always inspired me, aside from the angle of love, but just the angle of music being such a formidable character in my life. I look at that movie as a framework to adapt my story to," he tells the interviewer, explaining the impact that this comedy/drama/romance flick starring John Cusack has had not only on his music, but on his life. The feature intersperses clips from the album's corresponding music videos and clips of Donwill speaking directly to the camera, giving audiences an accurate impression of what they can expect from the album. This release, featuring Opio (Souls of Mischief),Tanya Morgan, Peter Hadar, and many more is available now via Interdependent Media.

MYX TV Feature: http://myx.tv/video/1000/donwill



Having teamed up with leading sound software and audio production company, Native Instruments, Audible Treats is excited to be able to award one lucky winner with a free MASCHINE Groove Production Studio. To enter, contestants must simply email their name and address to AudibleTreatsSXSW@gmail.com. One winner will be selected at random and announced Wednesday, April 14th, 2010. More info on the MASCHINE here: http://www.native-instruments.com/maschine.info.



The Background:

Donwill is one-third of hip-hop group Tanya Morgan, formed in 2003, who recently released their third full-length album Brooklynati in 2009. With the high praise from Rolling Stone and Time Out New York that Brooklynati garnered,Donwill is now ready to release his own album, Don Cusack in High Fidelity. The maxi-single of "Laura's Song," complete with the album version, radio edit, instrumental and a couple of remixes is now available for purchase on iTunes. Don Cusack in High Fidelity is now available everywhere via Bay Area label Interdependent Media.


About Interdependent Media:

Founded in 2006 in the Bay Area by Evan Phillips, Interdependent Media has built unique strengths in the development, production, and marketing of recorded music via new methods of marketing and promotion. Armed with a comprehensive understanding of both traditional and emerging methods of marketing, iM has successfully created multi-faceted methods of raising awareness and interest in their projects. Industry veterans Ian "ID" Davis and Dominic Del Bene head operations at iM and are credited with discovering and/or developing artists such as 9th Wonder, Little Brother, Tanya Morgan, Blackalicious, Del the Funky Homosapien, the Hieroglyphics and more. In 2009, iM will be releasing multi-media projects from artists Finale, Canibus, K'naan, Truthlive, and Tanya Morgan. For more information, please visit http://www.imculture.com


Donwill is available for in-person and phone interviews. Web editors contact Dan for interview requests. Print editors contact Michelle.