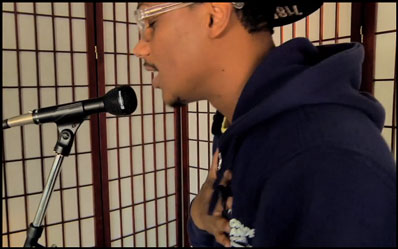 Critical Praise for Tanya Morgan:

"This Brooklyn-Cincinnati hip-hop trio summoned old-school cheer, goofy skits and indelible hooks for a left-field masterpiece." - Rated #1 Album across all genres for 2009 by Steve Smith, Time Out New York's Music Editor


The Video:

Riding on the success of his recently released album, Don Cusack In High Fidelity, Donwill is excited to present a live in-studio video recording of his latest remix, "Love Junkie," featuring The Park and Wallpaper. Shot at Different Fur Studios in San Francisco, CA by YoursTru.ly, the video confirms the phenomenal vibe between everyone involved with the recording. With shoulders bouncing and hands moving everywhere, Donwill spits his rhymes as The Park step-claps to the beat for live effects. Different instruments are also highlighted as the synth player manipulates his sound while playing lines and the piano solo zooms in on the flawlessly energetic piano player's hands.

Watch "Love Junkie" Feat. The Park (Wallpaper. Live Remix) Here: http://vimeo.com/11446688

Please post buy links: http://itunes.apple.com/us/album/don-cusack-in-high-fidelity/id362341315


The Background:

Donwill is one-third of hip-hop group Tanya Morgan, formed in 2003, who recently released their third full-length album Brooklynati in 2009. With the high praise from Rolling Stone and Time Out New York that Brooklynati garnered,Donwill is now ready to release his own album, Don Cusack in High Fidelity. The maxi-single of "Laura's Song," complete with the album version, radio edit, instrumental and a couple of remixes is now available for purchase on iTunes. Don Cusack in High Fidelity is now available everywhere via Bay Area label Interdependent Media.


About Interdependent Media:

Founded in 2006 in the Bay Area by Evan Phillips, Interdependent Media has built unique strengths in the development, production, and marketing of recorded music via new methods of marketing and promotion. Armed with a comprehensive understanding of both traditional and emerging methods of marketing, iM has successfully created multi-faceted methods of raising awareness and interest in their projects. Industry veterans Ian "ID" Davis and Dominic Del Bene head operations at iM and are credited with discovering and/or developing artists such as 9th Wonder, Little Brother, Tanya Morgan, Blackalicious, Del the Funky Homosapien, the Hieroglyphics and more. In 2009, iM will be releasing multi-media projects from artists Finale, Canibus, K'naan, Truthlive, and Tanya Morgan. For more information, please visit http://www.imculture.com


Donwill is available for in-person and phone interviews. Web editors contact Dan for interview requests. Print editors contact Michelle.