Video: Dizzy Wright - "Still Movin'"

03.29.2013
Dizzy Wright, Funk Volume Launch Motivational Still Movin' Campaign, Unveil New Single And Merch Line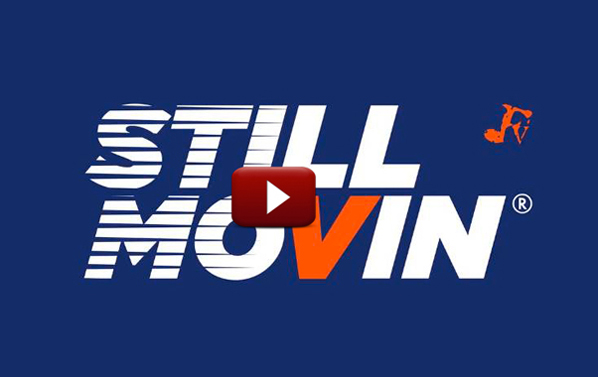 The Video:



Since signing to Funk Volume in 2011, Dizzy Wright has been all about progress. His debut album, SmokeOut Conversations, and EP, The First Agreement, both charted on iTunes and Billboard; he went on three tours last year, including his own 30-date headline tour, that brought him all across the world; and just earlier this week, Dizzy was announced as the People's Champ vote winner and part of XXL Magazine's 2013 Freshmen Class. So it comes as no surprise that Dizzy and Funk Volume are unveiling a new video today for a campaign they're calling "Sill Movin'," which urges fans and supporters of Dizzy and the label to pursue the same kind of progress, no matter what field, that Dizzy has been focused on for the past two years.

"Don't you get it? We still moving/ Independent living, and we still moving," raps Dizzy in the video, surrounded by his Funk Volume label mates, as he details the hard work and drive that has taken him from being an aspiring local rapper in his hometown of Las Vegas to now, a burgeoning breakout rap star. To accompany the song and video, Dizzy and Funk Volume are also releasing a line of Still Movin' t-shirts, hoodies, and hats, available for purchase via the Funk Volume merch store, a way for the rapper and label to continue to connect and give some motivation back to the fans and supporters that have given them so much over the years. "It's always been about the fans," says Dizzy, recalling how he would give away a new song or video every time he reached new milestones on social media. "This is my way of giving back."

Still Movin' is the crystallization of this commitment. "Don't slow down for nobody. Don't let anyone stop you from what you're doing," exclaims Dizzy, breaking down the rhetoric that serves as a key attribute of the Still Movin' mindset, one that resonates throughout the Funk Volume label, which pushed and connected with fans similarly through last year's "Independent Living" campaign. "You can do whatever you do – smoke, drink, party – so long as you bring that positive energy," says Dizzy. "This year, it's Still Movin'."

Watch the "Still Movin'" video: http://www.youtube.com/watch?v=ho_i8Z8m6Wo

Purchase Still Movin' merchandise: http://myfunkvolume.com/funk-volume-clothing/





Please contact Michelle or Dan if interested in talking with Dizzy Wright.



Dizzy Wright Background:



Not many 21-year old rappers can say that they've been rapping for over a decade. Las Vegas, Nevada, Rapper Dizzy Wright began rapping at just 8 years old, in the group "DaFuture" with his brother and very close friend – his mother wrote his raps at the time. Dizzy broke through when he was discovered at the Sheikh Music "Rip the Mic" competition in 2010 and signed onto Funk Volume a few months later. In April 2012, Dizzy released his first Funk Volume album, SmokeOut Conversations, peaking at #2 on the iTunes Hip-Hop charts which he followed up with a free mixtape, Free SmokeOut Conversations, which has been downloaded over 200,000 times, and helped propel Dizzy to his own national 30-city tour. In December 2012, Dizzy went on to release the first of four EPs, The First Agreement, which reached as high as #2 on the iTunes Hip-Hop chart. In March of 2013, Dizzy gathered enough votes to be selected as the "People's Choice" member of the XXL Freshman Class of 2013. Dizzy is showing no signs of slowing down as 2013 looks to be his biggest year yet



Funk Volume Background:



Funk Volume is a record label, marketing and production company founded to give hip hop artists a home to freely express themselves without feeling controlled or pressured by any other outside forces. Currently home to Hopsin, SwizZz, Dizzy Wright, Jarren Benton and DJ Hoppa, Funk Volume's plan is to represent only the sickest, most talented, and most creative artists that we can find. The label's objective is to produce music that it feel competes with any other artists or labels in the industry. Funk Volume is not a "movement", not a "gang", not a "squad." Funk Volume is a commitment – to protect the integrity of the music and conduct our business properly. It is a commitment to hip-hop, to its fans, and to each other.



"Still Movin'":
http://www.youtube.com/watch?v=ho_i8Z8m6Wo

"Maintain":
http://www.youtube.com/watch?v=V2eb2nAgono

"Verbalizing":
http://www.hotnewhiphop.com/video.9125.html

Facebook:
http://www.facebook.com/DizzyWright

Twitter:
https://twitter.com/DizzyWright

Official Website:
http://myfunkvolume.com/

Youtube:
http://www.youtube.com/user/FunkVolume


Audible Treats, Ltd.
98 4th Street, Suite 317 | Brooklyn, New York 11231 | 718-768-7275
www.audibletreats.com
© Copyright 2013
All Rights Reserved