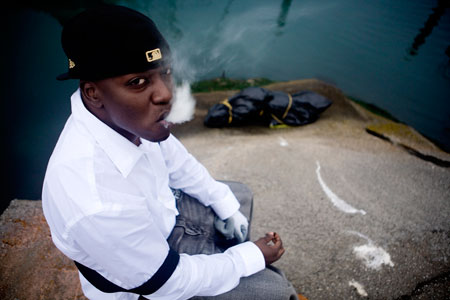 The Song:



Back with the fourth and final pre-album track before the release of his SWTBRDS debut, The Day The Turf Stood Still (March 9th), DaVinci aka J. DaVinci swiftly delivers another strong offering, "Hustler's Theme," to hold us over until he begins releasing the first songs and videos from his album in the coming weeks. Sticking with a golden formula, DaVinci once again links up with Vancouver producer and frequent collaborator Blunt (Freeway, Edgar Alan Floe, J-Love) who brings his trademark smooth, soulful chops to the track – the perfect contrasting backdrop to DaVinci's raspy vocals and the lyrical landscapes the Bay Area MC effortlessly paints.

Speaking of those landscapes, on "Hustler's Theme" DaVinci skillfully performs his as-usual impressive balancing act between tough talk and enlightenment, mixing in a heavy dose of street science while the underlying tones of DaVinci's lyrics touch on the importance of education in attaining financial stability. "Whether you hustle or work a job, there are do's and don'ts that everyone should have as part of their business etiquette," says DaVinci. While avoiding the preachy-ness known to drag down so many songs with a message, DaVinci still manages to deliver a strong message for those that don't have the best education but still run the streets with dreams of financial comfort. "I wanted to convey to them that they could [still] reach these financial goals if they abide by the rules of 'The Hustler's Theme'."

DaVinci's The Day The Turf Stood Still will be available for free download March 9th via SWTBRDS Creative Collective.

"Hustler's Theme" (Prod. By Blunt): http://media.audibletreats.com/DaVinci-Hustlers_Theme_Prod_By_Blunt.mp3

Also, check out DaVinci's two-part sit down interview with the west coast's own 24kMilkCrate.com as DaVinci speaks on the forthcoming The Day The Turf Stood Still, where he finds his inspiration, and discusses a few key tracks from the album.
24KMilkCrate.com TV: DaVinci Interview Pt. 1: http://www.youtube.com/watch?v=zJVELfOPNA0
24KMilkCrate.com TV: DaVinci Interview Pt. 2: http://www.youtube.com/watch?v=-uLGeNy9dS0

For more information on DaVinci please contact Michelle or Dan at Audible Treats.



The Background:



The Fillmore District has bred more rappers per capita than any other district in San Francisco, and although the older generations recall its rich musical history rooted in Jazz, the Fillmore today is rife with drugs, turf wars, and mass gentrification. DaVinci, a young MC raised in the Fillmore, is a prime example of the duality of this area, who at the age of 13 was homeless, hungry, and hopeful for a way out. Explains DaVinci, "My music has everything to do with my environment: from robbing, killing, pimpin' to selling and abusing drugs," he explains about his heavy content. "It's a direct reflection of what my friends and family have been through and are still going through." While his story is similar to many other young rappers' upbringings, DaVinci was surrounded by an incredible pool of Fillmore talent and by studying with the greats, he was able to sharpen his skills and aim higher than most, cultivating his story-telling abilities beyond mere drug-and-gun-talk. Growing up in the same 10-block radius as Bay Area rap legends San Quinn and JT the Bigga Figga, DaVinci was content in merely watching the next generation follow in their footsteps, until he received overwhelming praise from his peers from a mixtape appearance, which then prompted him to pursue rap professionally. In 2006, San Quinn welcomed him onto the "Pressure Makes Diamonds Tour" with rap veterans Xzibit and Tech N9ne. Since the tour, DaVinci has kept busy appearing on numerous mixtapes and compilations, as well as preparing his official debut album, The Day The Turf Stood Still. The Day The Turf Stood Still will be available March 9, 2010 via SWTBRDS Creative Collective.