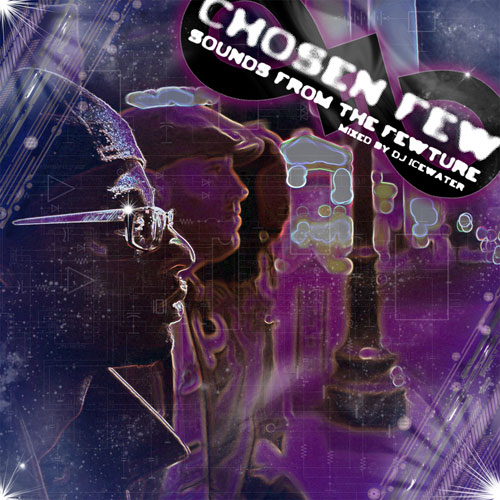 The Mixtape:



In preparation for the release of their upcoming album, New World Symphony, Chosen Few is proud to announce the release of their newest project, Sounds From The Fewture. Part of the legendary Hiero family, Chosen Few seeks to enlighten and inspire with their vibrant style and underlying message - you have the power to choose what music you listen to.

Although structured as a mixtape, the release, mixed by DJ Icewater of The Pharcyde, functions as a compilation and as Unjust explains, "It serves as a history lesson in an effort to familiarize hip-hop fans with who Chosen Few is, where they have been and what they have done, and get people ready for the upcoming album." Sounds From The Fewture is not a grouping of freestyles over beats from previously released songs, but instead features completed tracks that were previously unreleased, released on other albums or put together specifically for this project. The compilation also features a wealth of guest appearances and productions, all chosen for their dynamic talents, including Pep Love, Jern Eye, Khai Sharref, Donte of MOOD, Hi-Tek, DJ Dez, J-Rawls, and more.



The Video:



In conjunction with the release of Sounds From The Fewture, Chosen Few is excited to release their latest video, "Believers", featuring fellow Ohio transplants Midwest Coast, who sing the hook. Directed and produced by Unjust with digital photography by Gabe Miller, "Believers" was shot in the group's stomping grounds of Dayton, OH and Oakland, CA. The video communicates Chosen Few's mantra with chorus, "If you ain't havin it then cool, me neither. Let's get together make the whole world believers," encouraging fans to join the revolution. Neon purples, greens and blues strike a contrast in the black and white video and help to signify a new beginning and illustrate the power of choice. Take in the sights and sounds of Chosen Few - they are sure to make 'Believers' out of you.

Sounds From The Fewture Mixtape: http://chosenfew.bandcamp.com/album/sounds-from-the-fewture-mixtape-compilation

Video: http://www.youtube.com/watch?v=PjxG02CYfyU

Please post buy links: http://itunes.apple.com/us/album/understanding-elevation-single/id352529149

Please contact Dan if interested in talking with Chosen Few.



The Background:



Chosen Few is Cold Showda, Unjust, Charles Cooper... and You. The mission of the group is to empower listeners and make them realize that they alone have the power to decide what music they listen to, instead of just picking up everything the powers that be are putting down. Originally from Ohio, the crew hooked up with regional talent like Hi-Tek, DJ Kweli, and Slum Village before moving westward to fulfill their musical manifest destiny. Cold Showda and Charles Cooper began their Bay Area careers by performing under the name Greans, collaborating with the likes of Mos Def, Common, Hieroglyphics, Pharcyde, Grandmaster Flash and more, while Unjust used his skills as a graphic artist to work with Dilated Peoples, Little Brother, Strong Arm Steady, Planet Asia, J. Dilla, Nappy Roots, and Dizzee Rascal to name a few. After achieving their respective separate successes, Chosen Few regrouped in 2008 and began building energy towards reviving the emotional range that seemed to missing from lady hip-hop at the time, and thus the idea that was New World Symphony was born. The sound of today's social consciousness is Unjust's soul and psychedelic rock laden beats, Cold Showda's relentlessly aggressive lyrics, and Charles Cooper's masterful saxophone playing and wordplay. Rounding out the album are guest appearances by Del The Funky Homosapien, Pep Love, Rakaa Iriscience, Phat Kat, DJ Babu, Tajai, Opio, Piakahn, Word4Word, and more. As Cooper says, "we are trying to encourage people to stand up, be your own individual and BE one of the chosen few." Become part of the movement at http://wearechosenfew.com and prepare to tune into New World Symphony on April 6th, 2010 via Hiero Imperium Records.