Brown Shoe Announces U.S. Tour Dates

02.08.2012
Brown Shoe Kick Off Country-Wide Tour on March 3 in San Francisco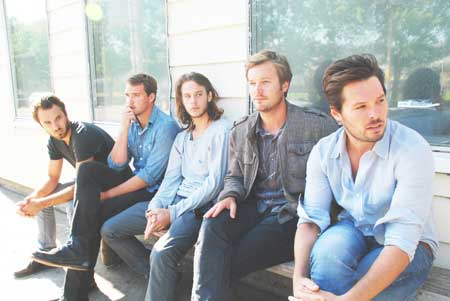 Critical Praise for Brown Shoe:

"Taking cues from Coldplay and Band of Horses, these four cute brothers and their equally cute friend make soaring rock music ripe for emotional movie montages." - Nylon Magazine

"Brown Shoe creates intricate, huge, pop songs, glacially moving things with arena-rock heft behind them." - Pop Matters

"Expressing heartache and loss through grand, daring musical compositions, "Diving Bell" is a song that's easy to play over and over again." - Magnet Magazine

"5/5" - Music Emissions



The Tour:



After the success of their latest album The Gift Horse, Brown Shoe is proud to announce that they'll be taking to the road for an extensive, stateside tour. Below, are the confirmed dates at the moment, with additional stops to follow - we'll be sure to keep you updated as those dates come about.

Brown Shoe will also be at this year's SXSW and are available to perform at both official and unofficial showcases. Please let us know if interested in booking.

Brown Shoe Tour Dates:
March 07 - San Diego, CA - The Ruby Room
March 08 - Santa Monica, CA - TRiP
March 09 - Las Vegas, NV - Bunkhouse Saloon
March 10 - Flagstaff, AZ - Mia's Lounge
March 11 - Albuquerque, NM - Low Spirits
March 12 - Dallas, TX - 2826 Arnetic
March 14 - Austin, TX - Carousel Lounge
March 19 - Houston, TX - Super Happy Fun Land (SXSW Overflow Fest)
March 20 - Shreveport, LA - Noble Savage Tavern
March 21 - Nashville, TN - The National Underground
March 22 - Atlanta, GA - The Music Room
March 23 - Myrtle Beach, SC - Island Bar
March 24 - Baltimore, MD - Sonar / Talking Head Lounge
March 25 - Washington D.C. - Bloombars
March 27 - Philadelphia, PA - The Grape Room
March 28 - New York, NY - Rockwood Music Hall
March 29 - Brooklyn, NY - Union Hall
March 30 - Pittsburgh, PA - Howlers Coyote Café
March 31 - Bloomington, IN - Rachael's Cafe
April 01 - Chicago, IL - Beat Kitchen
April 02 - Daytrotter Session
April 03 - Des Moines, IA - Vaudville Mews
April 05 - Denver, CO - Hi-Dive
April 06 - Bozeman, MT - Zebra Cocktail Lounge
April 07 - Spokane, WA - Mootsy's
April 08 - Seattle, WA - High Dive

Please post buy links (name-your-own-price via Bandcamp): http://brownshoe1.bandcamp.com




Please contact Chris or Gavin if interested in talking with Brown Shoe.



The Background:



Brown Shoe is made up of four brothers-Aaron, Bryson, Ryan and Landon Baggaley-and Chandler Clemons who might as well be a brother. Their previous three albums received broad radio play, charted on CMJ, and garnered numerous TV placements. In recent years Brown Shoe has crisscrossed North America a number of times, playing festivals, clubs, and colleges, winning over a diverse fan base across the country. After touring in support of Jackalope, Brown Shoe decided it was time to get back in the studio and begin recording the manically expansive and treacherous tale, The Gift Horse, which is available now.


Streams:

"Sick Man":
http://media.audibletreats.com/Brown_Shoe-Sick_Man.mp3

"Pauper":
http://media.audibletreats.com/Brown_Shoe-Pauper.mp3

"Late Nights":
http://vimeo.com/30876660
http://media.audibletreats.com/Brown_Shoe-Late_Nights.mp3

"Diving Bell":
http://media.audibletreats.com/Brown_Shoe-Diving_Bell.mp3

"Colt Rider":
http://media.audibletreats.com/Brown_Shoe-Colt_Rider.mp3

Bio, pictures, and streams available here:
http://www.audibletreats.com/download/brown_shoe/

Facebook:
http://www.facebook.com/BrownShoeMusic

Twitter:
http://twitter.com/brownshoemusic

Myspace:
http://www.myspace.com/brownshoe

Official Site:
http://brownshoemusic.com/


Audible Treats, Ltd.
98 4th Street, Suite 317 | Brooklyn, New York 11231 | 718-768-7275
www.audibletreats.com
© Copyright 2012
All Rights Reserved