MP3: Brown Shoe - "Sick Man"

12.21.2011
Earmilk Premieres Latest Intimate Single Detailing Singers Health Scare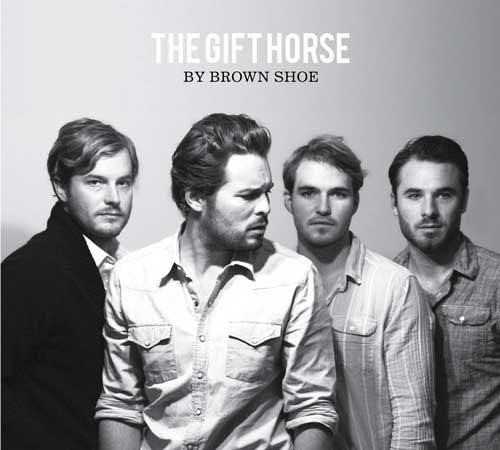 Critical Praise for Brown Shoe:

"Taking cues from Coldplay and Band of Horses, these four cute brothers and their equally cute friend make soaring rock music ripe for emotional movie montages." - Nylon Magazine

"Brown Shoe creates intricate, huge, pop songs, glacially moving things with arena-rock heft behind them." - Pop Matters

"Expressing heartache and loss through grand, daring musical compositions, "Diving Bell" is a song that's easy to play over and over again." - Magnet Magazine



The Song:



On Brown Shoe's final single "Sick Man" from their highly regarded album, The Gift Horse, the band exposes a brutally honest and telling side to a serious event that overshadowed the entire mindset of the record. Halfway through the recording process of The Gift Horse, lead singer Ryan Baggaley fell mysteriously ill. Diagnosed with what turned out to be a rare and unusual blood infection, upon being discharged, Baggaley went directly to lay down the vocals on what would quickly become "Sick Man." This probably happened a bit too soon - considering the fact that he was quickly readmitted - yet it's hard to not admire such ambition.

Describing the time as being an "overly emotional time not only in my life but in the bands history," the song came to life with Baggaley being "in the middle of a nostalgic morphine induced yearning for a different place and time."

While Ryan has spent the year successfully recovering, "Sick Man" offers a glimpse not only into the dedication of these four brothers and a friend, but also the oft-cathartic nature of their songs.

Download "Sick Man" for free here: http://media.audibletreats.com/Brown_Shoe-Sick_Man.mp3

Please post buy links (name-your-own-price via Bandcamp): http://brownshoe1.bandcamp.com




Please contact Chris or Gavin if interested in talking with Brown Shoe.



The Background:



Brown Shoe is made up of four brothers-Aaron, Bryson, Ryan and Landon Baggaley-and Chandler Clemons who might as well be a brother. Their previous three albums received broad radio play, charted on CMJ, and garnered numerous TV placements. In recent years Brown Shoe has crisscrossed North America a number of times, playing festivals, clubs, and colleges, winning over a diverse fan base across the country. After touring in support of Jackalope, Brown Shoe decided it was time to get back in the studio and begin recording the manically expansive and treacherous tale, The Gift Horse, which is available now.


Streams:

"Sick Man":
http://media.audibletreats.com/Brown_Shoe-Sick_Man.mp3

"Pauper":
http://media.audibletreats.com/Brown_Shoe-Pauper.mp3

"Late Nights":
http://vimeo.com/30876660
http://media.audibletreats.com/Brown_Shoe-Late_Nights.mp3

"Diving Bell":
http://media.audibletreats.com/Brown_Shoe-Diving_Bell.mp3

"Colt Rider":
http://media.audibletreats.com/Brown_Shoe-Colt_Rider.mp3

Bio, pictures, and streams available here:
http://www.audibletreats.com/download/brown_shoe/

Facebook:
http://www.facebook.com/BrownShoeMusic

Twitter:
http://twitter.com/brownshoemusic

Myspace:
http://www.myspace.com/brownshoe

Official Site:
http://brownshoemusic.com/


Audible Treats, Ltd.
98 4th Street, Suite 317 | Brooklyn, New York 11231 | 718-768-7275
www.audibletreats.com
© Copyright 2011
All Rights Reserved