MP3: Brown Shoe - "Late Nights"

09.06.2011
California Rockers Expose Their Softer Side On Second Single From New Album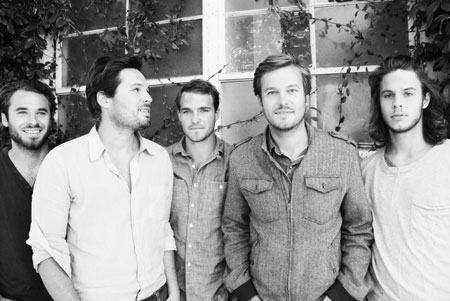 Critical Praise for Brown Shoe:

"So maybe one of the reasons why I'm loving Brown Shoe is that they are four good looking brothers (and a family friend for good measure) from Northern CA, which - as you might know - is where I call home. Plus, some of their music has even been described as "California-sun tinged Bon Iver" - which is a good enough reason for giving their music a listen... at least, I think so." - Indie Shuffle

"It's a record that seems destined to take the band to even bigger heights." - Ryan's Smashing Life

"New Band Smell" Feature on My Old Kentucky Blog



The Song:



After the release of their first single, "Colt Rider," from their forthcoming full-length The Gift Horse, California rockers Brown Shoe have returned with their latest single, "Late Nights." Less upbeat, and more love stricken, "Late Nights" expands on the quintet's musically diverse sound, while offering a level of intimacy that pulls listeners in as close as possible.

Guitarist Aaron Baggaley describes "Late Nights" as being, "A song about being in that all-too-desperate situation in which you just can't give enough stimulation, adulation or attention to appease your short term lover. It's like trying to get a firm grip on a hologram -- the tighter you squeeze, the more you know it's not real."

AOL Spinner premiered "Late NIghts" today, and it's now available for download/posting: http://media.audibletreats.com/Brown_Shoe-Late_Nights.mp3

Please post buy links (name-your-own-price via Bandcamp):
http://brownshoe1.bandcamp.com




Please contact Chris if interested in talking with Brown Shoe.



The Background:



Brown Shoe is made up of four brothers-Aaron, Bryson, Ryan and Landon Baggaley-and Chandler Clemons who might as well be a brother. Their previous three albums received broad radio play, charted on CMJ, and garnered numerous TV placements. In recent years Brown Shoe has crisscrossed North America a number of times, playing festivals, clubs, and colleges, winning over a diverse fan base across the country. After touring in support of Jackalope, Brown Shoe decided it was time to get back in the studio and begin recording the manically expansive and treacherous tale, The Gift Horse to be released fall 2011.


Streams:

"Late Nights":
http://media.audibletreats.com/Brown_Shoe-Late_Nights.mp3

"Colt Rider":
http://media.audibletreats.com/Brown_Shoe-Colt_Rider.mp3

Bio, pictures, and streams available here:
http://www.audibletreats.com/download/brown_shoe/

Facebook:
http://www.facebook.com/BrownShoeMusic

Twitter:
http://twitter.com/brownshoemusic

Myspace:
http://www.myspace.com/brownshoe

Official Site:
http://brownshoemusic.com/


Audible Treats, Ltd.
98 4th Street, Suite 317 | Brooklyn, New York 11231 | 718-768-7275
www.audibletreats.com
© Copyright 2011
All Rights Reserved