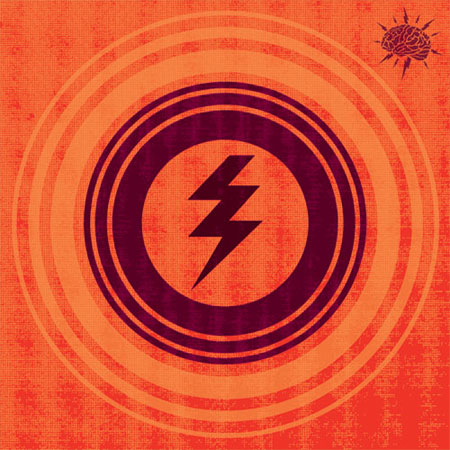 The Song:



After Bisco Smith's newest album, The Broadcast, arrived with a bang, he has taken his single, "Vibrations" to the next level with its revamped remix. Producer Scott Thorough was brought in for this remix to provide a different angle for the edgy single. A Brooklyn native, Thorough is a member of the Nuclear Family and has produced remixes for Embedded Music and Def Jux artists Baje One, Cool Calm Pete, Core Rhythm, and more, along with his frequent collaborations with Bisco. "Scott has remixed a bunch of tunes for me in the past and always comes with the dark, heavy, hard-hitting material," says Bisco. "I am a fan of dubstep, drum and bass, and heavy electronic tunes and I think Scott always incorporates those elements in what he sends my way."

The echoed beginning of "We gonna get you out of here," followed by a moment of dead air, erases all pretense for the remix, opening up the listener to the new possibilities of Scott Thorough's imaginings. Warped sounds, pounding drums, and a descending synthesizer bass line continuously push the music forward, but in a different way than the original single – its eerie setup, and the feel it provides Bisco's lyrics, fill the remix with a seemingly slowed, yet driving power. Coming to an end, the remix takes yet another turn, as Bisco directs the drum kick, bass line, and snare hit with his intense, syncopated lyrics. Then, coming full circle, the remix closes the same way it began – an echoing "We gonna get you out of here" permeates the speakers, reinforcing the song's theme of musical escape as Bisco's fading vocals wander off, pulling the listener's thoughts with them. The most musically diverse effort of Bisco's career, The Broadcast pushes the boundaries of what hip-hop can be, and with the album's remixes, and the efforts of Scott Thorough, "Vibrations" continues to challenge the hip-hop status quo. Bisco Smith's The Broadcast is currently available via all digital retailers.


"Vibrations" (Scott Thorough Remix):
http://media.audibletreats.com/Bisco_Smith-Vibrations_Scott_Thorough_Remix.mp3


Bisco Smith's second full-length album The Broadcast is available now. Please post buy links: http://itunes.apple.com/us/album/the-broadcast/id345566067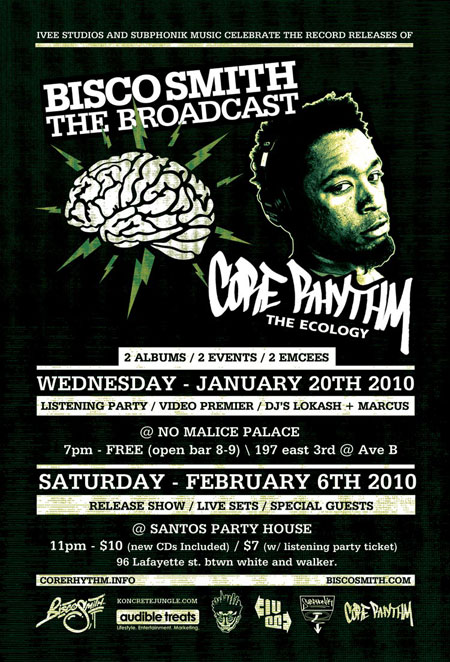 The Broadcast teaser #2: http://www.youtube.com/watch?v=t6b_pedRrHA

Please contact Michelle or Dan if interested in talking with Bisco



The Background: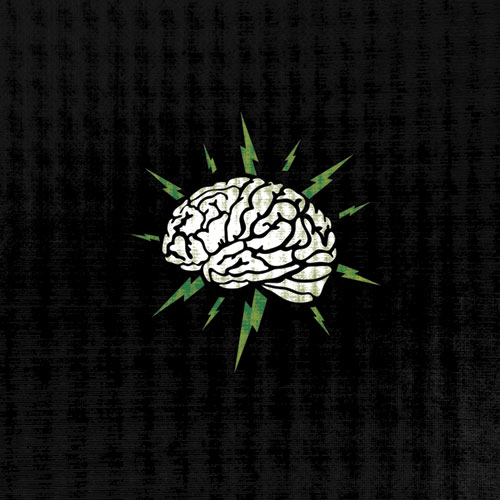 Bisco Smith moved to NYC 10 plus years ago from Connecticut and quickly made a name for himself DJ'ing at clubs, distributing mixtapes, performing at open mics, and in graffiti circles. His debut release, The Basics EP (2006), gained the favorable attention of music critics and his subsequent release, The Stay Up Project mixtape (2007) was downloaded over 5,000 times. Bisco's penchant for capturing our chaotic reality with his narratives, images, and collaborations has earned him a reputation as one of the most honest and creative artists of today. Going beyond music, Bisco Smith is also an accomplished graphic artist. He's done cover art, designed promotional materials and spearheaded art direction for artists such as Aesop Rock, The Perceptionists, C-Rayz-Walz, Murs, El-P, and others. His art has been featured in several magazines and art house coffee table books and in galleries, such as Danny Simmon's Rush Arts Gallery. 2008 was a big year for Bisco. He released the critically acclaimed album When Electric Night Falls (Embedded Music), toured the US, and performed at CMJ, SXSW, Scribble Jam, and NXNE. Since the start of 2009, Bisco has already released a multimedia project entitled The Strange Love Project, and is now preparing for the release of The Broadcast. It is clear that he shows no sign of slowing down. He spends his time designing everything from record covers to websites, painting walls, participating in art gallery shows, and mentoring the city's youth with art and music, all the while transmitting top quality music to the world. Prepare to tune into Bisco Smith's LP, The Broadcast, available online now.