Audible Treats' Best Singles Of 2011 Reminder - Hip-Hop & Indie Rock

11.16.2011
Highlights of Audible Treats' 2011 Client Singles
We've already given you our list of the best albums we've worked, and now here are our picks for the best singles we've been involved with this year. Once again, these are ordered by genre- 20 hip-hop singles and 6 indie rock / electro singles.


---
Best Hip-Hop / Urban Singles:


1) A.Dd+ - "Insomniac Dreaming" Ft. Black Milk LISTEN | ASSETS | PR

Following the release of their highly acclaimed debut album, When Pigs Fly, Dallas duo A.Dd+ continued to keep fans satiated with a series of loosie singles. Here, A.Dd+'s Paris Pershun and Slim Gravy team up with producer Black Milk for "Insomniac Dreaming," spitting aspirational, "dreaming in reality" raps atop Black's crackling guitar plucks, piano keys, and low end-heavy percussion.
---


2) A-Plus - "Can't Stop" WATCH | ASSET | PR

This year, A-Plus dropped Pepper Spray, the first EP in a four-part series, each paying homage to a legendary rock group that has influenced the Souls Of Mischief rapper throughout his career. Pepper Spray flips a number of Red Hot Chili Pepper classics, and with the video for "Can't Stop," A-Plus and director Unjust offer a trippy, effects-heavy visual for fans.
---


3) Big Pooh - "They Say" (Legendary Remix)" ft. Phife Dawg & T3: LISTEN | ASSET | PR

"They Say" originally appeared on Big Pooh's lauded sophomore solo LP, Dirty Pretty Things, and with the remix, the former Little Brother rapper enlisted producer Focus... and rappers Phife Dawg of A Tribe Called Quest and T3 of Slum Village. Together, the rappers, all of whom have been unfairly overlooked in their own groups, show why listeners would be best off not betting against these three.
---


4) DaVinci – "D.R.E.A.M." WATCH | ASSET | PR

DaVinci's Feast Or Famine EP opens with the single "D.R.E.A.M.," a statement, of sorts, for who DaVinci is as a rapper and as a man. The song title, an acronym that plays off Wu-Tang's "C.R.E.A.M." and stands for Dope Rules Everything Around Me, brings listeners into DaVinci's world of harsh realities and conflicted decisions that leads to a young adolescent making the "hustle or die decision."
---


5) Icebird – "Going and Going and Going" WATCH | ASSET | PR

Producer rjd2 and singer-songwriter Aaron Livingston joined forces this year to form the duo Icebird, and with it released their debut offering together, The Abandoned Lullaby. The album's lead single, "Going And Going. And Going," places rj's upbeat, snare- and guitar-heavy beat playing against Livingston's endearing, soulful vocals and affecting lyrics.
---


6) J.Davey – "Whatchalookin@? / Kill 4 Fun" WATCH | ASSET | PR

2011 has been a year of unconventional moves for J*Davey, the duo of Jack Davey and Brook D'Leau: they left their long-time major label; they started their own label imprint, ILLAV8R; they released a new album, New Designer Drug, through iTunes as part of a digital booklet; and for the album's lead single? How about a double-serving of tracks, with "Whatchalookin@?," about a bratty distain for social media, and "Kill 4 Fun," a rambunctious, playful ditty about taking no prisoners, which pretty much explains them to a tee.
---


7) Kokayi - "Roxtar" WATCH | ASSET | PR

With "RoxTar," the lead single from Kokayi's ultra-impressive Robots & Dinosaurs, the Washington, D.C. do-it-all - Kokayi raps, sings, and produces, when he's not penning Grammy nominated hits for other artists - delivered one of the most fun, eye-catching videos of the year. Directed by Donlee Brussel, the video features The Rock-afire Explosion, a backing band unlike any you've seen before.
---


8) Kreayshawn - "Gucci Gucci" WATCH | ASSET | PR

2011's turned out to be quite a year for Kreayshawn, and "Gucci Gucci" was the catalyst that got it all started. The track, an anthem of individuality and self-expression inspired when Kreayshawn moved from East Oakland to Downtown Los Angeles, blew up in mid-May when she released the Strange Customs-directed visual, quickly becoming the most ubiquitous song of the summer and earning Kreayshawn a deal with Columbia Records and a Best New Artist nomination at MTV's Video Music Awards. The video has since garnered over 25 million YouTube views, while the song has broken at radio worldwide.
---


9) Kyle Rapps - "Universe Traveler" Ft. Talib Kweli WATCH | ASSET | PR

It's proven to be a prolific year for New Jersey-born, Harlem-based rapper Kyle Rapps. After catching fans' ears with his Re-Edutainment EP, he released the On-Air mixtape, a project that flipped classics from legendary French group Air and featured a host of impressive guests, including Talib Kweli, who appears on the tape's lead single "Universe Traveler," a track that places Kyle at the forefront and allows him to show-and-prove alongside one of hip-hop's finest.
---


10) League 510 - "Soul of A Synth" WATCH | ASSET | PR

2011 may have been a bit more quiet than usual for League510, but when the Bay Area-based, Town Techno-purveying group struck, they struck hard. "Soul Of A Synth," a redux flip of Flying Lotus' "Computer Face/Pure Being," was one of their brightest moments, with the foursome of Monty, TK, Mr. Knowitall, and DJ Blacksmith flipping a bevy of lyrical styles over the unorthodox instrumental.

---


11) Moe Green – "Extra, Extra" WATCH | ASSET | PR

Few emcees have the ability to span topics and sounds like Moe Green. His Lionheart EP was a fine example of that, with tracks like "All The Money In The World" and "Masterpiece," but best of all among the bunch was "Extra Extra," a laid-back, almost muted track that allowed Moe to look within and examine the conflict and struggle that he faces while striving to reach his goals.
---


12) Phesto Dee- "Every Detail" WATCH | ASSET | PR

Phesto Dee's long-awaited solo debut, Background Check, is finally on the way (we promise!), and to warm fans up for the album's 2012 release, Phesto kicked things off with "Every Detail." Enlisting his childhood friends Shomari Smith to direct the video and Jasmeen Miranda to produce, the visual takes fans through a day-in-the-life of the renowned emcee, as Phesto hits the studio, swings by the office, and hits the stage, all before crashing back home at the end of a busy day.
---


13) Rapid Ric - "PLP" WATCH | ASSET | PR

If you like Texas hip-hop, particularly that of the Houston variety, then Rapid Ric's Whut It Dew album is already the perfect little holiday present for your iTunes playlist. The album features Chamillionaire, Z-Ro, Slim Thug, Trae Tha Truth, Kila Kyleon, Lil' Keke, Bushwick Bill, and more, including Lil Boosie, Dorrough Music, Chalie Boy, and Gerald G., the latter four all appearing on Ric's "PLP (Parking Lot Pimpin')" single, a track that pits 808 drums and bouncy synths against the collection of southern royalty.
---


14) Roach Gigz - "F.A Chorus" WATCH | ASSET | PR

The New York Times, Pitchfork.com, The FADER, and Stereogum.com, among others, have hailed Roach Gigz' Bitch, I'm A Player as the strongest release yet from Roach Gigz. Indeed, there's hardly a low moment on the 12-track EP, and one of the highest comes on EP opener "F A Chorus," a rapid-fire rap track that received an added boost due to the song's Kreayshawn-directed visual.
---


15) Saukrates - "Say I" WATCH | ASSET | PR

Saukrates is one of the finest examples of longevity in hip-hop: a 15-year vet, clearly a master of his craft, who still manages to release some of the genres most poignant songs, including "Say I." The track was recently pegged by Nike, to be used as a part of their Always On 24/7 campaign, a six-episode video series aimed at highlighting the lifestyles of select Nike athletes. "Say I" provides the soundtrack for a day-in-the-life of Montreal Canadiens hockey player P.K. Subban, with an anthem that's all hard work and perseverance.
---


16) Shady Nate - "Real Ni**a Recipie" Feat. Jay Jonah WATCH | ASSET | PR

One of this year's finest Bay Area releases came from Shady Nate, who paired up with producer DJ Fresh to release the album Still Based On A True Story. "Real Ni**a Recipe" is the album's truly infectious lead single, a kick- and snare-led track that matches it's spare synth work expertly against Nate's rapid fire flow and hustle-heavy lyrics.
---


17) SL Jones - "Paper Cuts" WATCH | ASSET | PR

The Number 23: Editor's Cut earned SL Jones accolades from MTV News, MTV2, The FADER, XXL Magazine, Complex, and more. "Paper Cuts" is one of the mixtape's most aggressive cuts, and the Motion Family-directed video, rather than pushing the Little Rock rapper as a crime boss, places SL firmly on the come-up, as he counts and runs someone else's dirty dollars.
---


18) The Freeze Tag - "The Hustle" WATCH | ASSET | PR

Bisco Smith and Cassettes Won't Listen came together in 2011 to form The Freeze Tag, and with it, released their debut EP, the concept-driven Hamster Kid. A five-track concept EP and animated musical collaboration brought together with the help of world-renowned street artist Bishop 203 and director Mike Vidoli, Hamster Kid told the tale of underdog anti-hero who fights to stay true to himself while overcoming external pressures, and EP lead single, "The Hustle," pulls bits and pieces – both lyrically and visually – from each track on the EP to tell the protagonist's story.
---


19) The Niceguys - "Die Later" WATCH | ASSET | PR

The Niceguys' debut LP, The Show, earned the group accolades aplenty - not to mention the cover of the Houston Press and the front of the arts section in the Houston Chronicle - and in 2011 one of the LP's hardest hitting singles, "Die Later," received an equally enthralling visual, featuring rapper Yves Saint on a run for public office while producers Cristolph and Free and DJ Candlestick offer support.
---


20) ZAKEE - "Dope Girl" WATCH | ASSET | PR

After all is said and done, every guy just wants something dope he can call his own. And that's just the idea behind "Dope Girl," the leading single from ZAKEE's latest album, Assimilations. The song, driven by ZAKEE's engaging falsetto and an airy, washed out guitar track, is matched with a visual that pulls its inspiration from an earlier time. Janis Joplin, Bob Dylan, and James Dean serve as inspirations, according to ZAKEE, who spends the black-and-white clip enjoying life's simpler pleasures: his Chevy and his girl.
---
---
Best Indie Rock / Electro Singles:


1) Ace Reporter - "Lean Honey Lean" LISTEN | ASSET | PR

"Lean Honey Lean," the title track off the electro-leaning album of the four EP's culled from the threesixfive project, establishes not only the diversity of Ace Reporter's sound, but also his fluency in crafting one killer pop hook.
---


2) Anthem Facility - "Trace" WATCH | ASSET | PR

Originally intended to only be a 30-second backing track for a Dell commercial, "Trace" quickly proved that it was much more than simply background music thanks to its swirling synths and hypnotic vocals.
---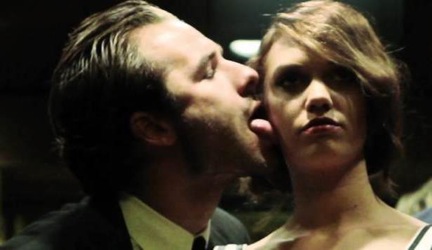 3) Brown Shoe – "Late Nights" WATCH | ASSET | PR

One of the slowest tracks on The Gift Horse, "Late Nights" tells the age long tale of broken hearts and failed romances while taking a surreal turn thanks to its well deserved video treatment.
---


4) Headless Horseman - "Wavlngth" WATCH | ASSET | PR

"Wavelngth" easily proves why Headless Horseman is on the brink of something very big. Incorporating unorthodox instrumentation, staticy tape loops and heart melting falsetto, "Wavelngth" is HH at their finest.
---


5) Lightouts – "The Eloise Suite" LISTEN | ASSET | PR

Distorted guitars and hand-claps always make things more interesting. What makes "The Eloise Suite" stand out is not only the bravado in which singer Greg Norton sings in, but the way in which Lightouts meticulously execute their guitar interplay, bringing forth some danceable fuzz-rock in the process.
---


6) Sandman Viper Command - "Strawberry Quick" LISTEN | ASSET | PR

Intentionally lazy and rollicking bass drum kicks start things off, initially branding Sandman Viper Command as another slacker-rock band. But by the time that the perfectly catchy chorus kicks in, it becomes clear as to why you should never judge a band by the first impression.
---
Thanks again for your continued support throughout the year and we look forward to beginning the new decade with you!

The Audible Treats fam: Michelle McDevitt, Gavin Rhodes, Dan Friedman, Chris Brancato, Dory Greenberg, Cody Watson, Khary Durgans, Lamont Harper, Kyle Scott, and Mochi the wonder pooch!

Please contact Michelle or Dan if interested in talking with any of the artists listed here.

Streams:

Bio, pictures, and streams available here:
http://www.audibletreats.com/download

Audible Treats, Ltd.
98 4th Street, Suite 317 | Brooklyn, New York 11231 | 718-768-7275
www.audibletreats.com
© Copyright 2011
All Rights Reserved