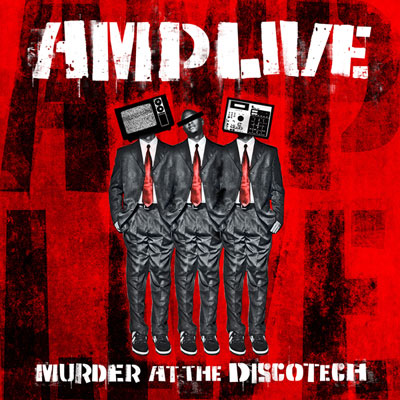 (April 01, 2010 - Brooklyn, NY) Amp Live, innovative DJ/Producer of legendary hip-hop crew Zion I, continues to break new ground with the release his solo album Murder At The Discotech. Though he's known most widely for being a key defender of socially conscious hip-hop, Amp Live has always dabbled in hip-hop's sister genres of dubstep and electronic music and melds both influences into a cohesive cybernetic journey with his new album, which will be released on May 11th, 2010 via Om Records.

With an unrivaled talent for crafting moving soundscapes, Amp Live's approach to the current trend of the electro/rap hybrid (which certainly harkens back to hip-hop's golden age) is so well executed that it just may be the spark that starts a new trend among rap producers. To some, this album may seem like Amp Live is sticking his toe into unfamiliar waters but longtime fans recognize that Zion I's first 12" from 1998 featured a drum & bass remix, a first for an American hip-hop group. "Every few years I do an electro series called 'Electrowonderland,' that is basically my stamp on the electronic music scene at the time" explains Amp Live. "[The first album] was released in 2007 and consisted of mainly drum 'n bass remixes of artists I had worked with. This new album, Murder At The Discotech, is a hip-hop, dubstep, rock, dance hybrid album with all original production." The album's 8 bit blips, washes of distorted synth leads, and chopped vocals serve to enhance the thunder of 808 kicks and complement the elite list of vocal guests. "Gary Is a Robot," the first single is a scorcher featuring Trackademicks & Mr. Micro that conjures feelings of Devo meeting indie hip-hop. Radio ready tunes like "Money Back Guaranteed" are equal portions of dubstep, hip-hop and electronic music, demonstrating a side to Amp Live capable of impressing even the most stoic hip-hop purist.

Amp Live collaborated with a number of hip-hop heroes and for many, inclusion on this album marks their maiden voyage into electronic music mayhem. "Hot Right Now" featuring The Grouch and Eligh of Living Legends, Chris Young and Amp's Zion-I partner, Zumbi feels like it was hand delivered from the future. "Turn It Up" featuring Mickey Factz does just that, pushing the wow factor of the album up a few notches. Other hip-hop notables including the legendary Myka Nyne ("Get Served") and Yak Ballz join the party each making great use of Amp's lush production.

"Gary is a Robot": http://media.audibletreats.com/Amp_Live-Gary_Is_A_Robot_Feat_Trackademicks_And_Mr_Micro.mp3
Video: http://www.youtube.com/watch?v=ULC1AhqqLZk



The Background:



Like Marty McFly with an MPC and a DeLorean on 22s, Amp Live brings the perfect beat back in the name of science, elevating hip-hop out of its creative doldrums and restoring innovation to the genre. Best known for his work as the production half of indie hip hop duo Zion I, Amp Live's official remix credits include Akon, Nicole Scherzinger of the Pussy Cat Dolls, Linkin Park, Radiohead, Tapes 'n Tapes, Jamie Lidell, MGMT, Jealous Girls, Tokyo Police Club, and Why? Amp Live received worldwide acclaim for his ingenious remix project for Radioheads' In Rainbows album, Rainydayz Remixes, which, despite having received cease & desists from the label, was approved by Radiohead themselves. Amp has also had his music included in a number of video games and movies, TV shows, and commercials, which include Nestle's "Wonka Candy-Feed Your Imagination" series, So You Think You Can Dance, America's Next Top Model, ESPN Sports Center, and the Jamie Kennedy Show to name a few. Always experimenting Amp Live's weaving of of rock, dance, electro, mashups, and drum n' bass influences within a hip-hop soundscape have garnered him fans from all over the world.