2010 SXSW Audible Treats Wrap-Up + Native Instruments Maschine Giveaway

03.30.2010
Week Of Music Highlighted By First Inaugural AT Showcase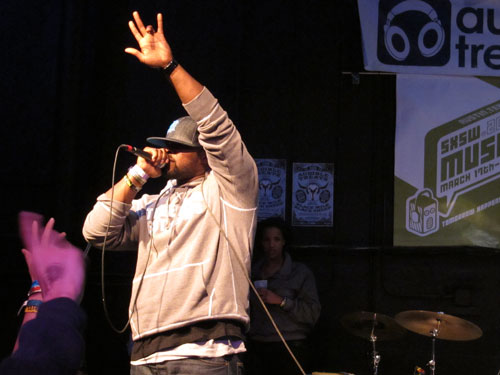 (March 30, 2010 – Brooklyn, NY) With weather reminiscent of chilly New York rather than sunny Austin, for the Audible Treats team SXSW came to a close in strong fashion with the first inaugural Audible Treats SXSW showcase. Along with co-hosts Nightclubber Lang of Boom Bap Project and Psalm One and special appearances from the likes of Homeboy Sandman, Eternia, The Alchemist, Peter Rosenberg, and more, Audible Treats is pleased to announce the showcase was an overwhelming success.
Hosted Saturday night at The Independent, the showcase delivered a string of great hip-hop for the large, energy-filled crowd. "The Audible Treats bash was the only hip-hop showcase that I stayed at for more than two hours," says Chris Faraone of The Boston Phoenix and JumpTheTurnStyle.com. "From Finale to Bisco Smith to Buff1; plus One Be Lo's live band was one of the best surprises of the weekend." Adding to the applause of outstanding performances, Fred Pessaro of Brooklyn Vegan, one of the showcase's official media partners says, "Black Milk doesn't just settle for a backing track to set it off, he needs the bombast of thumper Daru Jones and AB tickling the ivories to do it LARGE."

Beginning the showcase was iLL-Literacy, followed by TRUTHLiVE backed by live band The Park, who also graced the stage later that evening for a set with Donwill and Von Pea, alongside special guest Ragen Fykes. After sets from Town Techno purveyors League510 and Brooklyn MC Bisco Smith, Crown Royale, comprised of Buff1 and DJ Rhettmatic, and Detroit MC Finale followed, hosting special guests of their own with Crown Royale bringing out Mayer Hawthorne and Finale bringing out Invincible. Up next, Diamond District performed a set of crowd pleasers from In The Ruff, with a special appearance from Trek Life, before a set from One Be Lo and DOUBLE LO 7, the Detroit MC's newly formed all female live band.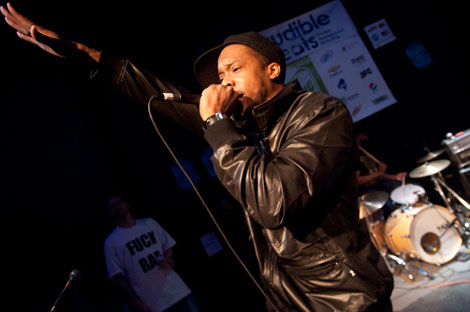 Closing out the night were a trio of performances. Co-headliner Black Milk hit the stage with his own live band, performing hits from TRONIC and Popular Demand. Between co-headline sets was house DJ Amp Live of Zion I, alongside special guests Mickey Factz and Trackademiks before the legendary Black Sheep closed out the evening with Dres playing his classics along with tracks from his forthcoming From The Black Pool Of Genius. "SXSW was a lovely thing," says Dres. "Though I had a six hour delay into Austin and had to take a cab direct from airport to stage, it was phenomenal. The true school crowd totally embraced it."

Audible Treats would also like to graciously thank all partners for assisting in making the showcase a success: Beyond Race Magazine, BrooklynVegan.com, CokeMachineGlow.com, The Smoking Section, Native Instruments, and Onitsuka Tiger.


Having teamed up with leading sound software and audio production company, Native Instruments, Audible Treats is excited to be able to award one lucky winner with a free MASCHINE Groove Production Studio. To enter, contestants must simply email their name and address to AudibleTreatsSXSW@gmail.com. One winner will be selected at random and announced Wednesday, April 14th, 2010. More info on the MASCHINE here: http://www.native-instruments.com/maschine.info,




Bisco - Railroads: http://www.youtube.com/watch?v=Bs8H1O1f9Cs

Diamond District - Back To Basics: http://www.youtube.com/watch?v=1Uap9x0txkQ

Donwill - Championship Vinyl: http://www.youtube.com/watch?v=lVSKHE2goE8

Donwill - Laura's Song: http://www.youtube.com/watch?v=gTNPy73KkKw

TRUTHLiVE - Shoot Me Down: http://www.youtube.com/watch?v=OoL6an2ww44

Finale - Motor Music: http://www.youtube.com/watch?v=rnDQvPdjrNU

Finale - Heat: http://www.youtube.com/watch?v=duoXgaSZuDQ

Streams:


http://www.audibletreats.com/download/sxsw
http://www.audibletreats.com/download
Audible Treats, Ltd.
98 4th Street, Suite 317 | Brooklyn, New York 11231 | 718-768-7275
www.audibletreats.com
© Copyright 2010
All Rights Reserved