Dell And Intel Present The First-Ever Noisey.com College Tour Co-Starring Neon Indian And Kreayshawn

10.05.2011
Two-Week Whirlwind Concert Tour To Span Ten College Campuses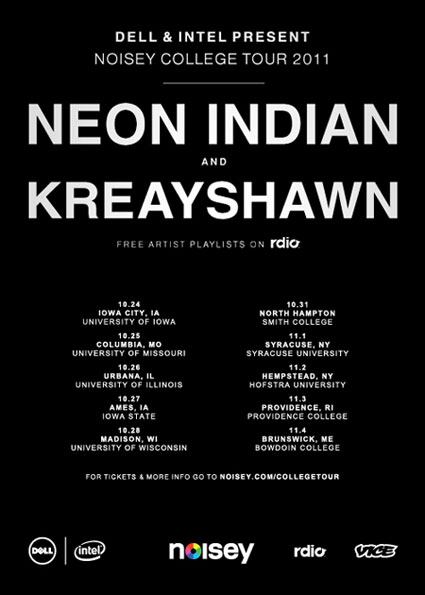 Critical Praise for Kreayshawn:

"She's at the center of a new hip-hop generation that pairs reckless creativity with online mythmaking and ignores the old rules about who you should be, what you should wear, and what you can become." - SF Weekly

"Kreayshawn is a trendsetter in music, fashion, and the Internet and isn't going anywhere but up." - CBS News

"Kreayshawn is nothing you've seen before...[she] is preparing to take the music world by a marijuana clouded glitter storm." - The Faster Times


(October 5th - New York, NY) - VICE, in concert with Dell and Intel, is pleased to announce the first-ever Noisey College Tour, a two-week, ten-city music tour co-starring chillwave indie rock darling Neon Indian and video hitmaker/rapper Kreayshawn.

Noisey was launched with the mission of creating an online music destination that showcases the best bands from all over the planet, presenting a global snapshot of music and youth culture from 11 countries worldwide. With the Noisey College Tour, VICE is taking Noisey Tour.com offline for the first time ever. But the mission remains the same, to showcase great bands for the fans. The tour is being presented by Dell and Intel and is supported by Rdio, a free, unlimited, on-demand social music service.

Students and fans can go to www.Noisey.com/CollegeTour to learn more about the tour as well as check out upcoming tour updates from the bands themselves.

Noisey College Tour Dates | www.Noisey.com/CollegeTour

Oct 24 Iowa City, IA - University of Iowa
Oct 25 Columbia, MO - University of Missouri
Oct 26 Urbana, IL - University of Illinois
Oct 27 Ames, IA - Iowa State
Oct 28 Madison, WI - University of Wisconsin
Oct 31 North Hampton - Smith College
Nov 1 Syracuse, NY - Syracuse University
Nov 2 Hempstead, NY - Hofstra University
Nov 3 Providence, RI - Providence College
Nov 4 Brunswick, ME - Bowdoin College

*Media can download artist images here: http://wtrns.fr/LG7kpFlJAT0QO5

Coming off a stellar performance on Late Night with Jimmy Fallon, Alan Palomo's chillwave project Neon Indian will be performing tracks from the critically-acclaimed album Era Extrana. Co-headlining with Neon Indian on the Noisey College Tour, will be Oakland rapper, videographer, and recent VMA Best New Artist nominee Kreayshawn, whose infectious hit song "Gucci Gucci" became the song of the summer when it infiltrated house parties and airwaves from Cali to London. With the spotlight on both of these eclectic artists, plan on 2012 being a big year for them both.

"Dell is sharing our passion for music by bringing real-time, live music events like the Austin City Limits Festival and Lollapalooza online and into the living room," said Michael Tatelman, Dell's vice president of North America Consumer Sales and Marketing. "Now, in conjunction with Noisey.com, we invite our college student fans across the nation to share in the new music discovery experience live and join us for the official Noisey.com concert tour event, free for students, and coming to a college near you."

Valerie Wilkinson, director of OEM Co-Marketing Group at Intel, shared: "Every day, college students are using Intel Core technology to discover, create and share music. Intel is excited to bring the Noisey.com platform live to these great college towns in the U.S., showcasing the unique performances of two of the world's up and coming artists who are innovators in their own right and using technology in their creation of music."

About Neon Indian:

Neon Indian released its sophomore LP, Era Extrana, a mere two weeks ago, and in those two weeks the band premiered the first official music video from the album, "Polish Girl," a collaboration with The Creator's Project that was directed by Tim Nackashi. The band took elements of the music video to late night TV when they performed "Polish Girl" on Late Night with Jimmy Fallon. The album is avail. on iTunes at the discounted price of $7.99 now and the deluxe edition package, which includes the PAL198X is nearly sold out.

"Rather than the deeply submerged sounds of its debut - which drew the attention of the Flaming Lips, who tapped the band for a collaborative EP - Mr. Palomo is taking the same milky synths and putting them to use in pop that's crisp and ecstatic." - The New York Times

About Kreayshawn:

Kreayshawn, is a 21-year-old Oakland, California native who recently grabbed the attention of everyone from the New York Times to Complex to Women's Wear Daily with her single "Gucci Gucci," which has received over 20 million views on YouTube since its debut in May 2011. Fresh off her recent VMA nomination for Best New Artist and four sold-out headlining dates and other appearances at Popped! Festival, Summer Jams, and clubs in London and Paris, the self-proclaimed "crazy cat lady" is gearing up to get back into the studio to release her yet-to-be-titled debut album, which will consist of her signature verbal mischief and genre-blending style.

"Kreayshawn is a trendsetter in music, fashion, and the Internet and isn't going anywhere but up." - CBS News

About VICE:

VICE Media is a leading global youth media company operating in over 34 countries, and includes the world's premier original online video destination, VICE.com; an international network of digital channels; a television production studio; a record label; an in-house creative services agency; and a book-publishing division. VICE's digital channels include The Creators Project, dedicated to arts and creativity; Motherboard, covering cultural happenings in technology; and Noisey, a music-discovery channel.

About Dell:

Dell (NASDAQ: DELL) listens to its customers and uses that insight to make technology simpler and create innovative solutions that simplify daily activities and help people stay entertained, connected and in touch. Learn more at www.dell.com.

About Intel:

Intel (NASDAQ: INTC) is a world leader in computing innovation. The company designs and builds the essential technologies that serve as the foundation for the world's computing devices. Additional information about Intel is available at www.intel.com/pressroom and blogs.intel.com.

About Rdio:

Rdio is an unlimited, on-demand social music service that brings music alive by letting users listen to as many songs as they want, anytime, anywhere, and discover and share new music with friends. Rdio users build and share their online music collections from a catalogue of over 11 million songs and can check out the listening activity, collections and playlists of other users and influencers as well as see what's in heavy rotation in their network, top charts, and newly released albums. For more information please visit www.rdio.com.





Press Contacts:
Michelle McDevitt / Audible Treats Michelle@audibletreats.com / 718-768-7278
Dan Friedman / Audible Treats Dan@audibletreats.com / 718-768-7278
Mike Navarra / Columbia Records Mike.Navarra@sonymusic.com / 212-833-7545.



The Background:



A former film student at Berkeley Digital Film School who's directed videos for the likes of Lil B and Soulja Boy and had her work praised by Diplo, The Weeknd, Drake, and others, Kreayshawn, a self-described rapper, DJ, director, swag-assassin, and under-cat, has quickly taken the music world by storm. Initially building buzz with the release of her "Bumpin' Bumpin'" video, in mid-May, 2011, Kreayshawn released her video for "Gucci Gucci," a single from her forthcoming soon-to-be-titled debut album, that takes aim at those who define themselves through materialism while encouraging individuality and self-expression. The video quickly took off, being viewed over 200,000 times in 48 hours and reaching one million views in just over a week. Kreayshawn has since signed with Columbia Records/Sony Music Entertainment. Kreayshawn is currently prepping her upcoming album and doing spot dates in NY, Chicago, SF, LA, and Philly while "Gucci Gucci" makes it way to video and radio rotations and digital retailers worldwide.


Streams:

Noisey College Tour:
http://www.Noisey.com/CollegeTour

"Gucci Gucci" Remix Ft. Giggs:
http://media.audibletreats.com/Kreayshawn-Gucci_Gucci_remix_Giggs.mp3

"Rich Whores":
http://t.opsp.in/12qkU

"Gucci Gucci":
http://itunes.apple.com/us/album/gucci-gucci-single/id442732741
http://www.amazon.com/Gucci/dp/B00551N9WK/ref=sr_1_3?ie=UTF8&qid=1308067779&sr=8-3
http://www.youtube.com/watch?v=6WJFjXtHcy4

Bio, pictures, and streams available here:
http://www.audibletreats.com/download/kreayshawn

Twitter:
http://twitter.com/kreayshawn

Facebook:
http://www.facebook.com/KREAYSHAWN

YouTube:
http://www.youtube.com/kreayshawn

Tumblr:
http://kreayshawn.tumblr.com/

Official Site:
http://www.kreayshawn.com


Audible Treats, Ltd.
98 4th Street, Suite 317 | Brooklyn, New York 11231 | 718-768-7275
www.audibletreats.com
© Copyright 2011
All Rights Reserved