Video: Jarren Benton – "Don't Act"
Funk Volume Rapper Captures His Turnt Up Tour Life In New Visual
09.17.2013
Critical Praise for Jarren Benton:
"As [My Grandmas Basement] unfolds, one thing becomes clear: [Jarren Benton] can handle himself just fine." – Creative Loafing, 4/5 review
"Benton has an extraordinarily nimble flow and sense of rhythm." – HipHopDX
The Video:
Funk Volume rapper Jarren Benton recently wrapped the My Grandma's Basement Tour, his first ever headline U.S. tour, which stopped in 16 cities across the U.S., and has now dropped the visual for his latest track, "Don't Act," directed by Jamal Samuel, featuring highlights of his experience on the road. With stops in Atlanta, Georgia, Brooklyn, New York, and Columbus, Ohio, to name a few, the tour capitalized on the success of his first full-length album for Funk Volume, My Grandma's Basement, which debuted at #4 on the iTunes Hip-Hop Chart in June.
With Pabst Blue Ribbon abundant, blunts blazing and girls ready to hit the stage and twerk, Jarren electrified crowds with his blend of theatric personality, razor-tongued lyricism and the occasional coonskin hat. With star power to spare, the visual demonstrates why 2013 has so far been Jarren Benton's time to shine.
Watch the video here: http://www.youtube.com/watch?v=–OW2n-rzRI&feature=youtu.be
Purchase My Grandma's Basement on iTunes: https://itunes.apple.com/us/album/my-grandmas-basement/id648136880
Purchase My Grandmas Basement on CD: http://myfunkvolume.com/product/jarren-benton-my-grandmas-basement-cd/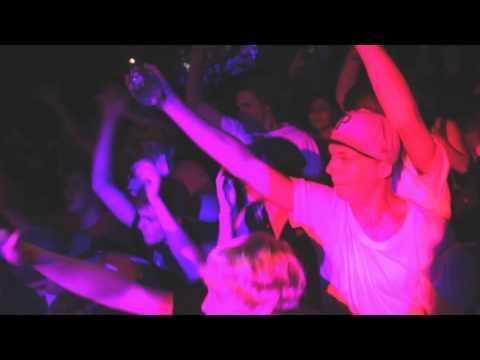 Please contact Michelle or Dan if interested in talking with Jarren Benton.
Jarren Benton Background:
For an artist with serious mainstream aspirations, Decatur, Georgia's Jarren Benton has spent his career going against the grain. One of Funk Volume's premiere acts, Jarren admits, "I love the music I do now. I do it in the safe-mode." That's rather shocking for an artist whose last album, Freebasing With Kevin Bacon lived up to its name, at least in attitude and style, evident on single "Skitzo." He continues, "I want to take it a lil' further. I just haven't had the balls to go all the way there yet, 'cause I presently want to keep a foot in the mainstream too." After two successful digital releases and a video with over one million YouTube plays, Jarren is currently promoting his Funk Volume debut album, My Grandmas Basement, which debuted at #4 on the iTunes Hip Hop Chart. He just wrapped the My Grandma's Basement Tour, his first ever headline U.S. tour.
Funk Volume Background:
Funk Volume is a record label, marketing and production company founded to give hip hop artists a home to freely express themselves without feeling controlled or pressured by any other outside forces. Currently home to Hopsin, SwizZz, Dizzy Wright, Jarren Benton and DJ Hoppa, Funk Volume's plan is to represent only the sickest, most talented, and most creative artists that we can find. The label's objective is to produce music that it feel competes with any other artists or labels in the industry. Funk Volume is not a "movement", not a "gang", not a "squad." Funk Volume is a commitment – to protect the integrity of the music and conduct our business properly. It is a commitment to hip-hop, to its fans, and to each other.
---
Links:
official site | facebook | twitter 

"Don't Act": http://www.youtube.com/watch?v=–OW2n-rzRI&feature=youtu.be
"LIfe In The Jungle": http://www.youtube.com/watch?v=SCChw0rXnmQ 
"We On" Ft. Dizzy Wright & Pounds: http://www.youtube.com/watch?v=TF_VXpUPOTk
"Go Off" Ft. Hopsin & SwizZz: http://www.youtube.com/watch?v=tQsPT4ejEpU
"Bully" Ft. Vinne Paz: http://www.youtube.com/watch?v=HZE-N1UqFMk
"Cadillacs & Chevys": http://www.youtube.com/watch?v=H3wH81zTyJ
"The Basement Interview Pt.1″: http://www.youtube.com/watch?v=htDPCAe_v3s
"Razor Blades And Steak Knives": http://www.youtube.com/watch?v=cFW3ffGjJBY
Bio, pictures and streams available here: http://www.audibletreats.com/jarren-benton/